PTFA
FULBOURN WINTER WINDOWS - this weekend!
Between 4-7pm on Friday 8th, Saturday 9th and Sunday 10th December 20+ houses / businesses will have their windows lit to create a magical walking trail for all.
To be in with a chance of winning a Christmas gift, find out what's behind each window and send your answers to fulbournprimaryptfa@gmail.com
Organised by Fulbourn Primary School PTFA, the trail is free - however if you can, and would like to donate - please consider donating here: https://www.justgiving.com/campaign/fulbournwinterwindows2023
With huge thanks to everyone who has created a window this year!
You can download a copy of the map here.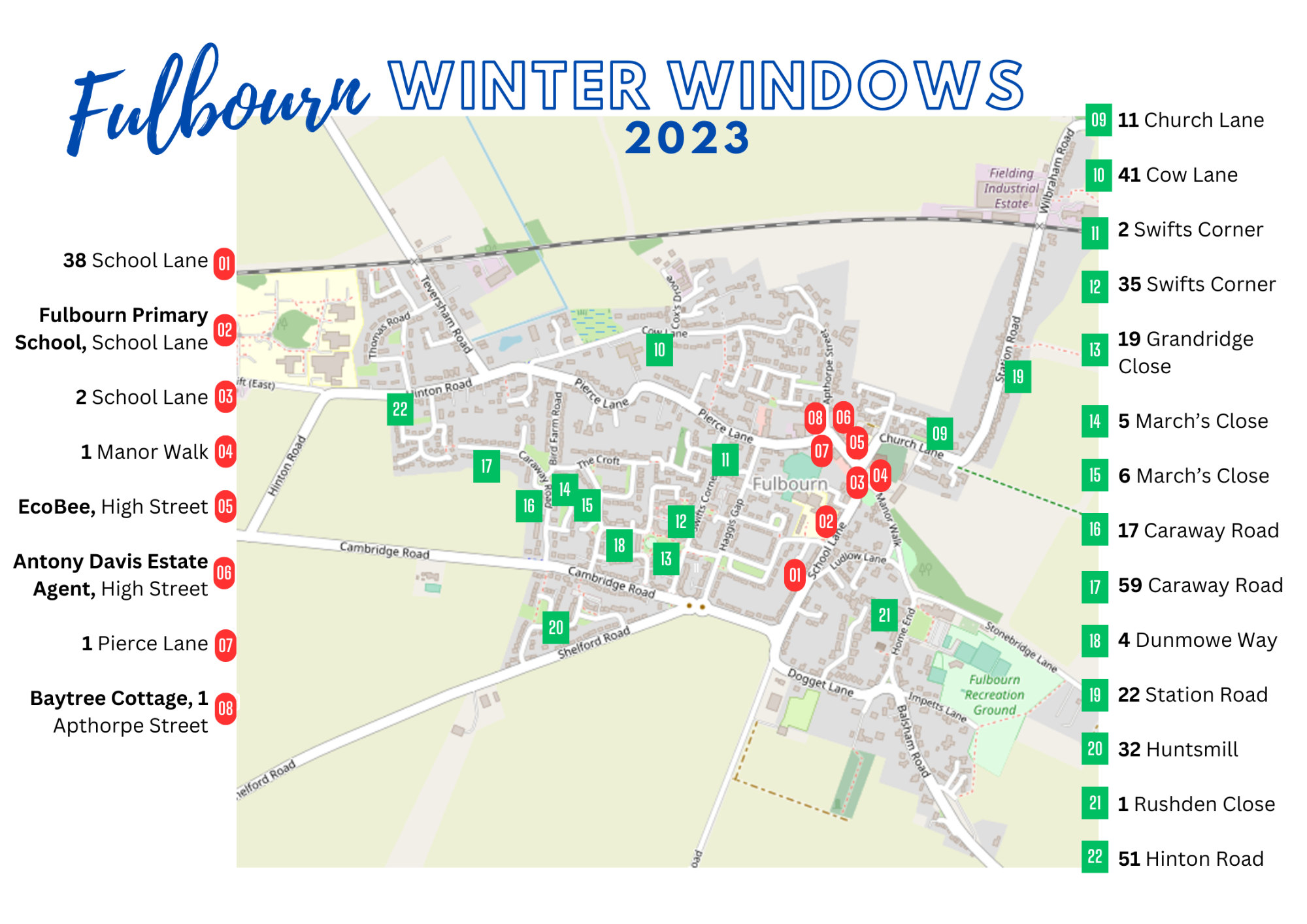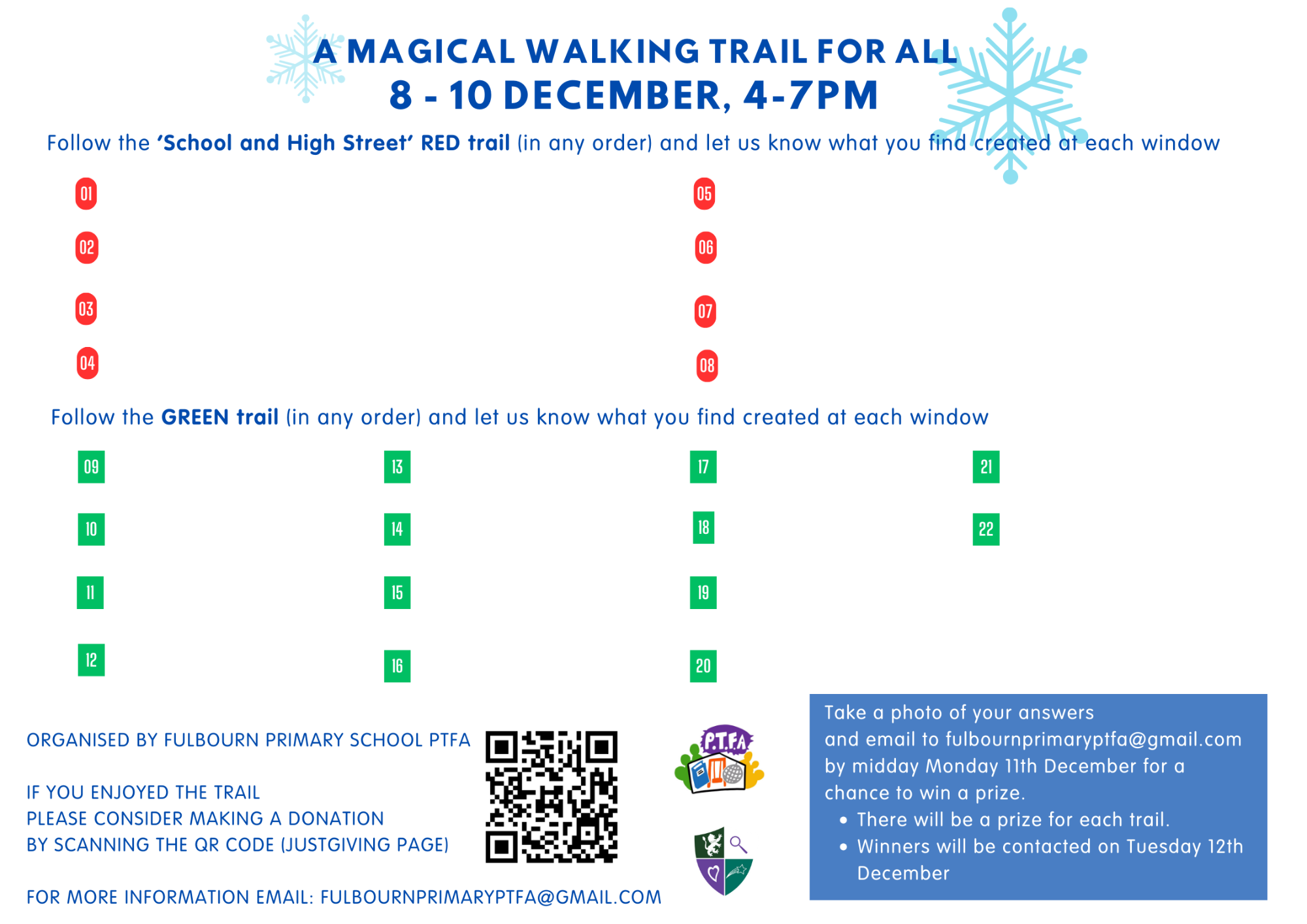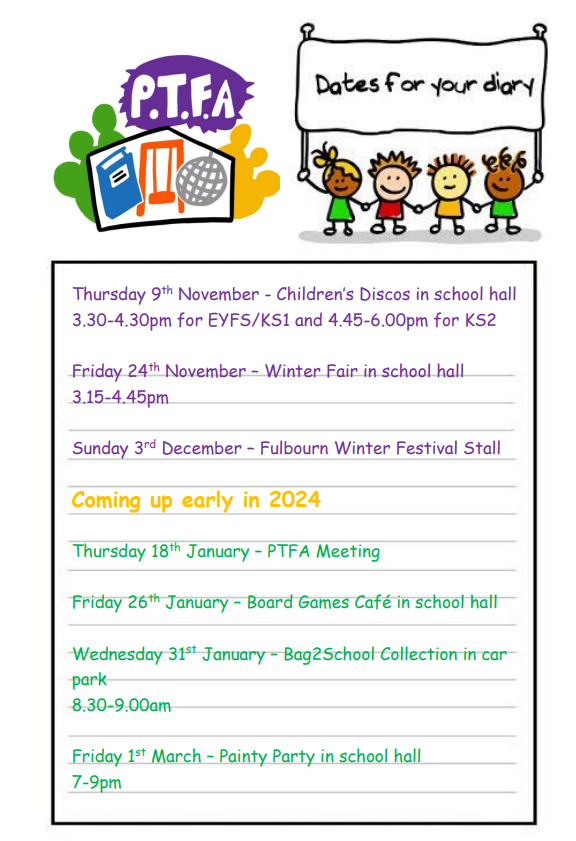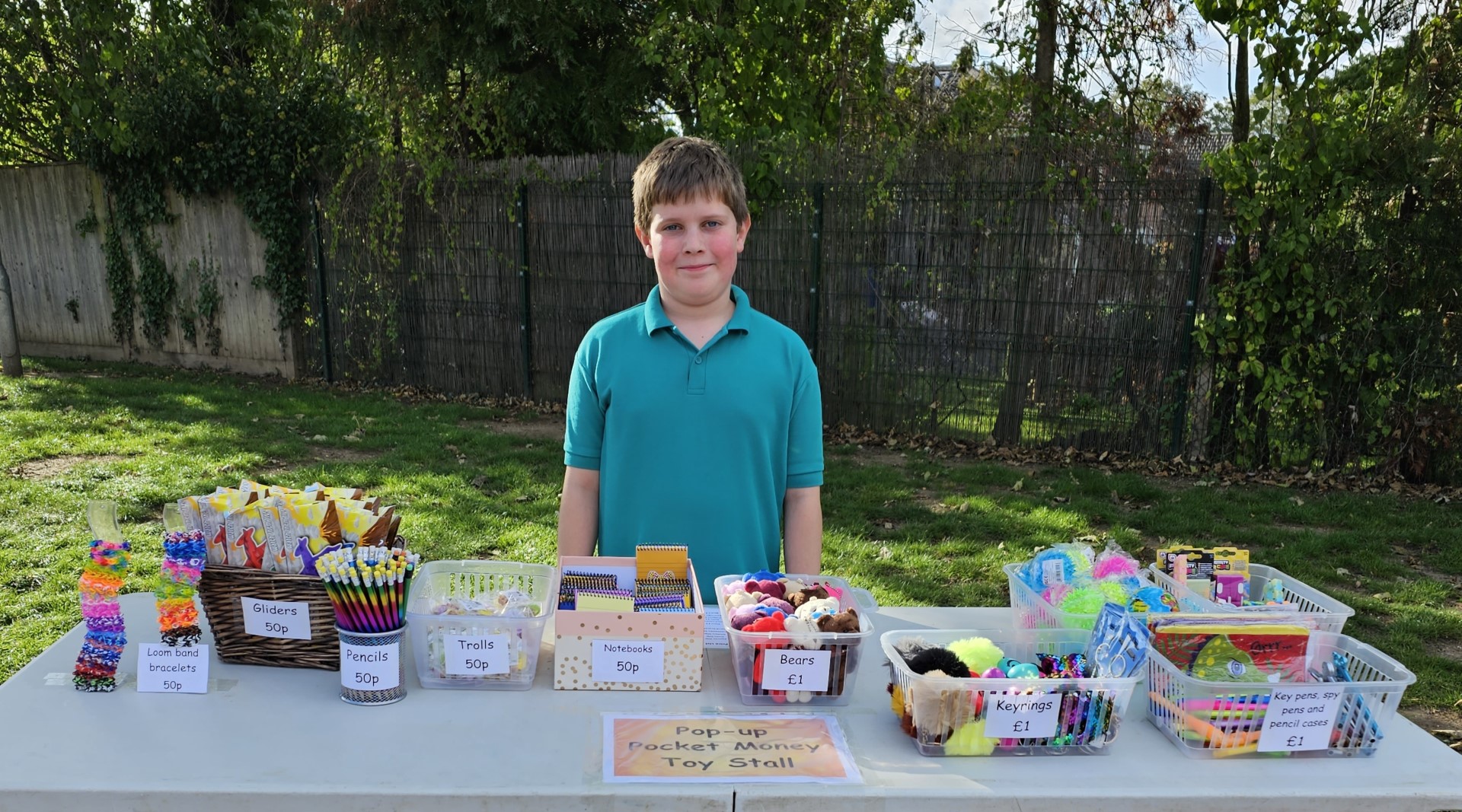 We have some fundraising successes to celebrate this week:
Thank you to everyone who donated to the Bag2School collection. We're pleased to confirm that it raised £120.

Well done to year 6 pupil, Matthew, who raised £85.50 with his pop-up pocket money toy stall last Friday, and thank you to everyone who supported him.

A big thank you to Fulbourn Arts who raised around £140 for the PTFA through their ceilidh ticket sales.
Labelling uniform
As you get uniform and equipment ready for September, please make sure you label everything. If you order name labels from http://www.stikins.co.uk the PTFA earns 30% commission on every order when you use our fundraising code 7650. Parents from our school who already use Stikins have commented on how good they are.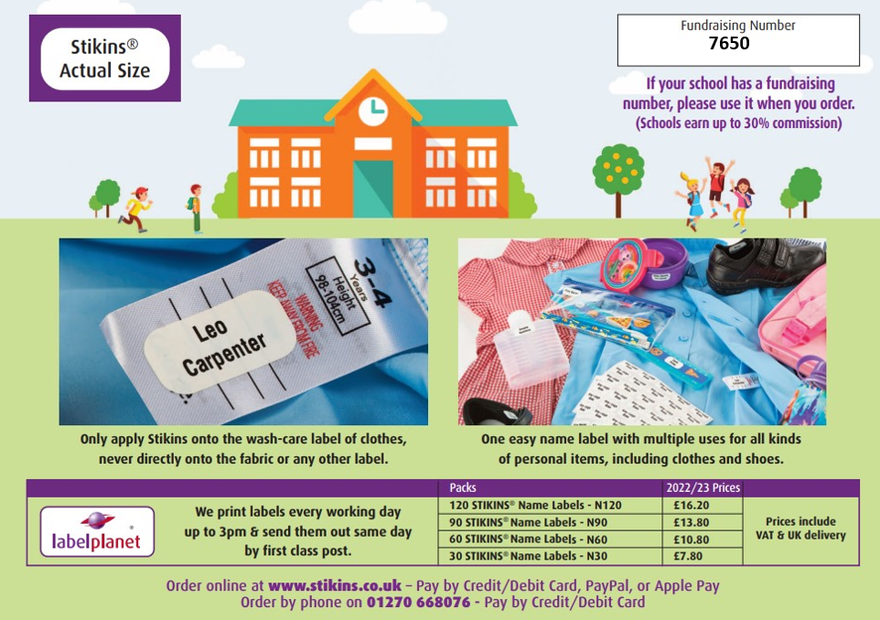 Other things you can be doing to help the PTFA at no cost to yourself include:
Signing up to http://www.easyfundraising.org.uk so you can earn money for the PTFA as you shop online. Our charity is called Fulbourn Primary School PTFA - Cambridge on their system.
Donating used printer ink cartridges for recycling. The last box we sent off for recycling raised over £50. You can leave old cartridges at the school office or pass them to Sarah Davies.
Start saving your unwanted clothing for our Bag2School collection in September. We'll be collecting:
Men's, Ladies' and Children's clothing
Paired shoes (tied together or elastic band around)
Handbags
Hats
Bags
Scarves and ties
Jewellery
Lingerie
Socks
Belts
Soft toys
Household linen
Household curtains
Household towels
Household bedding (bed sheets, pillow cases and duvet covers but NOT duvets)
Thank you for your support!
Annual General Meeting
The PTFA has worked hard over the past year organising fun events for children and families, as well as raising valuable funds for the school. Have a look at the minutes from the recent AGM to find out more:
A big thank you to everyone who joined us for another fantastic quiz night, and especially to our quiz master, Mat Meredith. It raised £550.
Thank you to everyone who has supported the Secret Postcards Project too, whether in making postcards, coming to see them, helping at the exhibitions, or bidding in the auction. We're delighted that so many people seem to have enjoyed the project, and it looks set to have raised around £1,600. Click below to see the 'Big Reveal' document in which you can find out who was the artist behind each postcard. If you had a go at the quiz sheet, you can also find out the answers below.
The money raised at these events will help with current projects, including developing the allotment area, and funding loose parts play equipment and storage, for more creative play opportunities at break times. We're also looking to provide some covered outdoor seating, as requested by the children. These bigger projects are on top of funding maths, art and library resources, coach travel for year 5/6 swimming lessons, and experiences such as the Living Eggs (chicks) project and Victorian school day. We work hard to ensure that all year groups benefit fairly from PTFA spending.
Don't Forget - easyfundraising
You can raise free funds for Fulbourn Primary School every time you shop online. Click below to find out more about how you can help us via easyfundraising.
Fulbourn Primary School Parents, Teachers and Friends Association (PTfA)
That's all of us!
We are not an exclusive club. We are just a group of parents,
organising some events to help make the school a great place to be.
About Us
The PTfA support the school by organising social events and raising funds which go directly to the school for the direct benefit of the children.
Did you know?
PTfA funds have previously paid for
The outdoor play equipment
The new library
The Big Cat reading book scheme
Maintenance of the school swimming pool
A range of other resources including musical instruments, computers and garden equipment
The PTfA Committee and being a member
Our current committee:

Lindsay
Treasurer

Sarah D
Secretary

Sarah F
Chair
As a committee, we steer the co-ordination of PTfA events and link closely on a regular basis with the Headteachers and the Men in Schools group.
But we can't do it alone! We are always looking for more helpers and new ideas to bring to the PTfA. All talents are welcome and there are opportunities to contribute a little or a lot or anything in between.
The PTfA meets regularly at The Six Bells to plan activities such as discos, quizzes, Christmas and summer fairs and social gatherings, and we take part in the running of events. It is a great way to get involved in school life, meet other parents, have some fun and support our children through fundraising!
If you'd like to find out more:
Please get in touch with Sarah via the PTfA email, fulbournprimaryptfa@gmail.com, or leave your name and contact details at the school office at any time and they can pass your details on.